Don't forget to recycle those old cell phones and empty ink jet/laser jet cartridges!
Our computer lab earns money $$ for each ink cartridge and cell phone to buy more equipment such as headphones, printer ink and other supplies.
The student earns 1 "Recycling Reward" ticket for each ink cartridge and 2 tickets for each cell phone or laser cartridge!
Remember, 5 tickets earns a trip to the treasure box!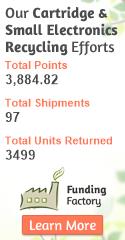 Typing/Keyboarding
3rd-5th graders: Keep working on your typing at home! Remember, to meet your Mavis Beacon goal you have to practice, practice, practice!
Tips: Grab a book or cereal box, open Word pad or Microsoft Word and practice your fingering and accuracy. Buy typing software, or buy an old typewriter from a yard sale!
The key to good typing is speed + accuracy!
To test your typing level, try this site:
Visit these great typing links on these websites:
http://www.learninggamesforkids.com/keyboarding_games.html
http://www.biloxischools.net/Schools/Gorenflo/Gorenflo%20Fun%20Page%20in%20progress.htm
http://www.primarygames.com/langarts/cupstacking/start.htm
http://www.powertyping.com/baracuda/baracuda.htm
http://www.typingmaster.com/games/typing-games.asp
http://gamesloth.com/games/Treasure_Type